Mongolian ger, or yurt as it is known worldwide, is attracting many people as eco-friendly, affordable home for off-grid living, glamping and a variety of other purposes such as yoga studio.
Mongolia exports around 1000 yurts a year to China, Russia, Australia, Belgium, Canada, Germany, Spain, France, England, Netherlands, South Korea, the United States, Hungary and other countries.
Most of the gers are exported through intermediaries, which are often foreign nationals and companies, who buy cheap yurts in Mongolia and resell at big margins. Thus, most of the profit from yurt exports are retained by the intermediaries, and local makers gets only a small portion of the total value-added.
Ashid Ger LLC is the only company in Mongolia making yurts in its own workshop and delivering yurts directly to its customers without any intermediaries. The company offers their yurts for sale through their website OriginalYurts.com. Yurts made by the company, branded as Original Yurts, are made of materials better suited to hot and humid climate outside of Mongolia.
The company makes regular shipments to the US and Australia, and ship yurts to other countries on-demand. In their latest shipment to Australia, the company delivered and helped set up multiple Mongolian yurts in off-grid locations in Queensland and New South Wales and Tasmania, including a large 11m yurt as an retirement home.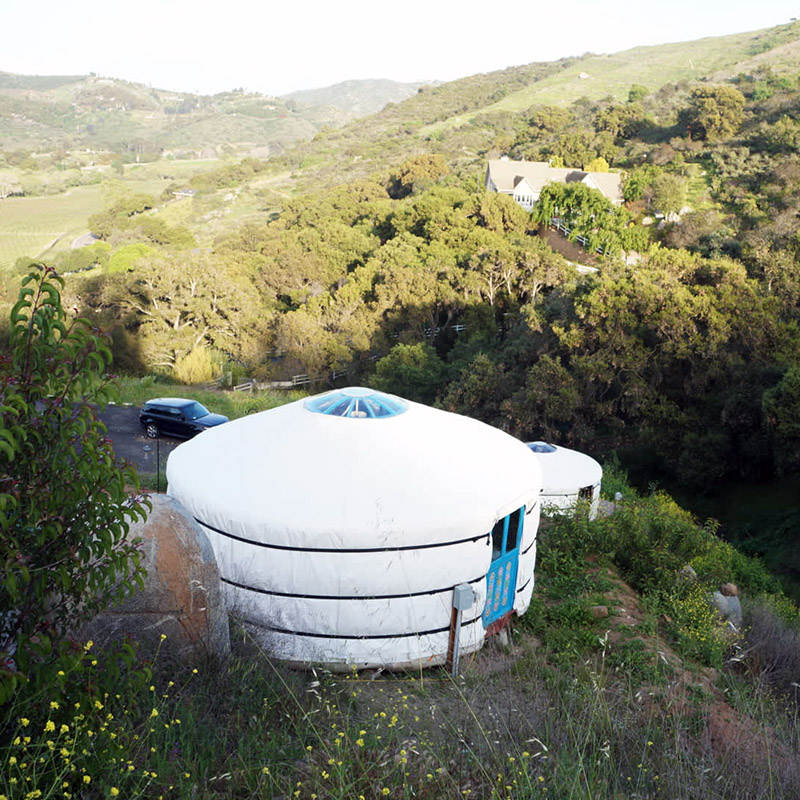 Монгол гэр нь зөөвөрлөж барих боломжтой, дулаан тусгаарлалт, агаарын солилцоо сайн  зэрэг чухал давуу талуудтай боловч харьцангуй хямд өртөгтэй тул өндөр хөгжилтэй орнуудын зах зээлийн тодорхой хэсгийн сонирхлыг ихэд татдаг.  Монголчууд болон Төв Азийн бусад нүүдэлчдийн хэрэглэж ирсэн уламжлалт гэр нь гадаад орнуудад орос нэрээрээ буюу юрта (yurt) хэмээн танигдсан.
Монгол Улсаас жилд дунджаар 1000 орчим гэр БНХАУ, ОХУ, Австрали, Бельги, Канад, Герман, Испани, Франц,  Англи, Нидерланд, БНСУ, АНУ,  Унгар зэрэг улсуудад экспортлогдог бөгөөд эдгээр ихэвчлэн гадаад компаниудын зуучлалаар эцсийн хэрэглэгчдэдээ хүрдэг тул борлуулалтын орлогын дийлэнх нь зуучлагч компаниудад очдог. Тэгвэл Ашид Гэр ХХК нь үйлдвэрлэлээс эхлэн гадаадын хэрэглэгчдэд хүргэх хүртэлх бүхий л процессыг өөрсдөө хариуцдаг тул илүү нэмүү өртгийг Монголдоо авч үлддэг байна.
Тус компани нь Монгол гэрийн загвар, материалыг гадаадын хэрэглэгчийн хэрэгцээ, халуун, чийглэг уур амьсгалд зохицуулан сайжруулан хөгжүүлж Оригинал Юуртс брэнд болгон АНУ, Австрали улсуудад экспортолдог. Саяхан тус компани 10 ханатай буюу 11 метрийн диаметртэй гэрийг өмнөд туйлтай хамгийн ойр цэгүүдийн нэг болох Австрали улсын Тасмани аралд хүргэн, худалдан авагчдаа угсарч хүлээлгэн өгсөн байна