Today (19 September), President of Mongolia U.Khurelsukh has departed to the U.S. to attend the 77th session of the United Nations General Assembly at its headquarters in New York City. The session will take place on 20-26 September .
The 77th session of the UN General Assembly will be held under the theme 'A watershed moment: transformative solutions to interlocking challenges' and bring together top state officials of over 150 countries.
The Mongolian President will deliver a statement to present the country's position on the pressing issues of international relations, the foreign policy objectives, the socio-economic situation, and the policies to overcome the difficulties at the General Debate.
He will also meet with the UN Secretary-General and heads of state and government of some countries.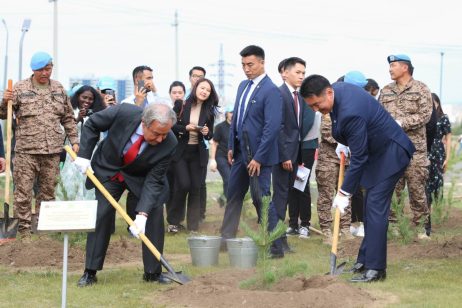 In August, U.N. Secretary General Antonio Guterres paid Mongolia a visit to plant trees. After attending COP26 in 2021, Mongolian President Khurelsukh Ukhnaa announced that he was embarking on a campaign for 1 billion trees to be planted in Mongolia.
Guterres' arrival marked the fifth visit of a U.N. secretary general to Mongolia and the first since Ban Ki-moon came in 2009.
Guterres praised Mongolia's engagement with the U.N. and mentioned Mongolia's many other contributions to non-proliferation through its declaration of nuclear-free status and its engaged multilateralism more generally. He praised the country as "a symbol of peace in a troubled world."