We all know that we can improve our immunity through a healthy and active lifestyle in addition to taking the necessary vitamins and supplements regularly. Similarly, we can strengthen our financial immunity by a simple habit of saving to cope and overcome any financial challenges.
Therefore, Golomt Bank launched the "Vitamin ₮," nationwide saving campaign, for the second consecutive year encouraging our customers to improve their saving habit. Throughout the campaign, total of 102 customers will become winner of various prizes of which two grand prize winners will win brand new Nissan Leaf electric car.
On November 6, 2021, Mr. Baljinnyam, who works at the Ulaanbaatar Railway, was announced as the winner of the first grand prize during a live program on Edutainment TV and became owner of the car thanks to his family's saving habit. The second winner will be announced during another live program on Edutainment TV in January 2022. We are pleased to share a brief interview with Mr. Baljinnyam here.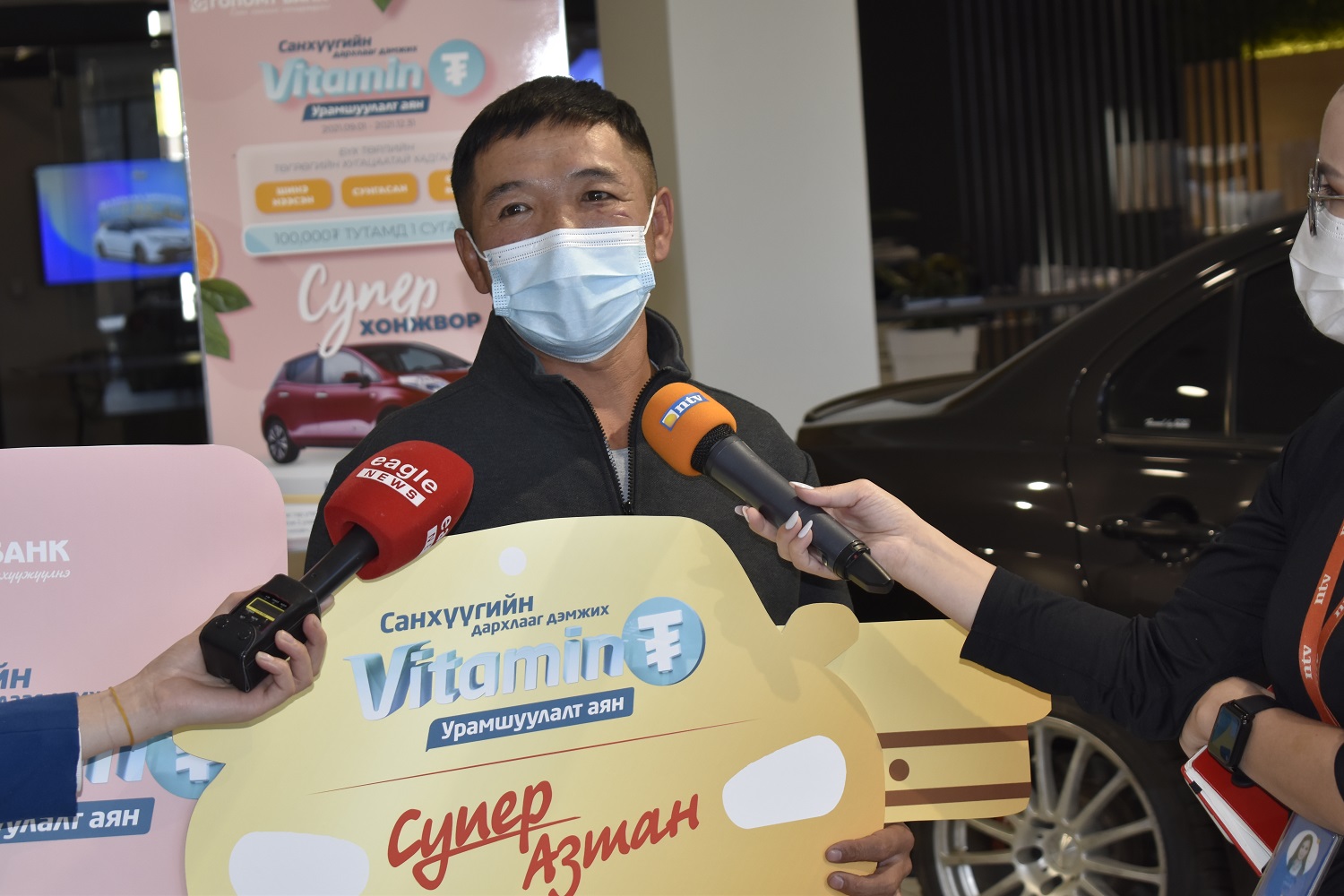 O.Baljinnyam: I am thrilled to become a winner of this beautiful car thanks to my saving account and saving habit.
Congratulations on winning the grand prize. How do you feel now?
First of all, I thank the Golomt bank. I didn't know that I won the grand prize until I received a call from the Bank. I feel so grateful. It is a really great gift for our family.
How did you first get involved in the "Vitamin ₮" campaign?
I opened a savings account two months ago to save the money for my apartment. At that time, I was told that I will be able to enter the campaign with but I didn't expect to be the lucky winner.
You have been encouraged to save. Have you been saving for a long time?
I have been customer of Golomt Bank for 20 years. Last time, I opened a new saving account and deposited money for my apartment but I already had a habit of saving by then. Also, we have saving accounts in our children's names as well. My family has a history of buying our first car and apartment through our saving account.
As a person who has become accustomed to saving, what are the advantages of saving?
A person with savings is able to cope with any unexpected problem without financial risk. There are many benefits to saving including purchasing big ticket items, accomplishing important goals, and earning interests. It is a financial guarantee for the future of our family and children. I am thrilled to become a winner of this beautiful car thanks to my saving account and saving habit.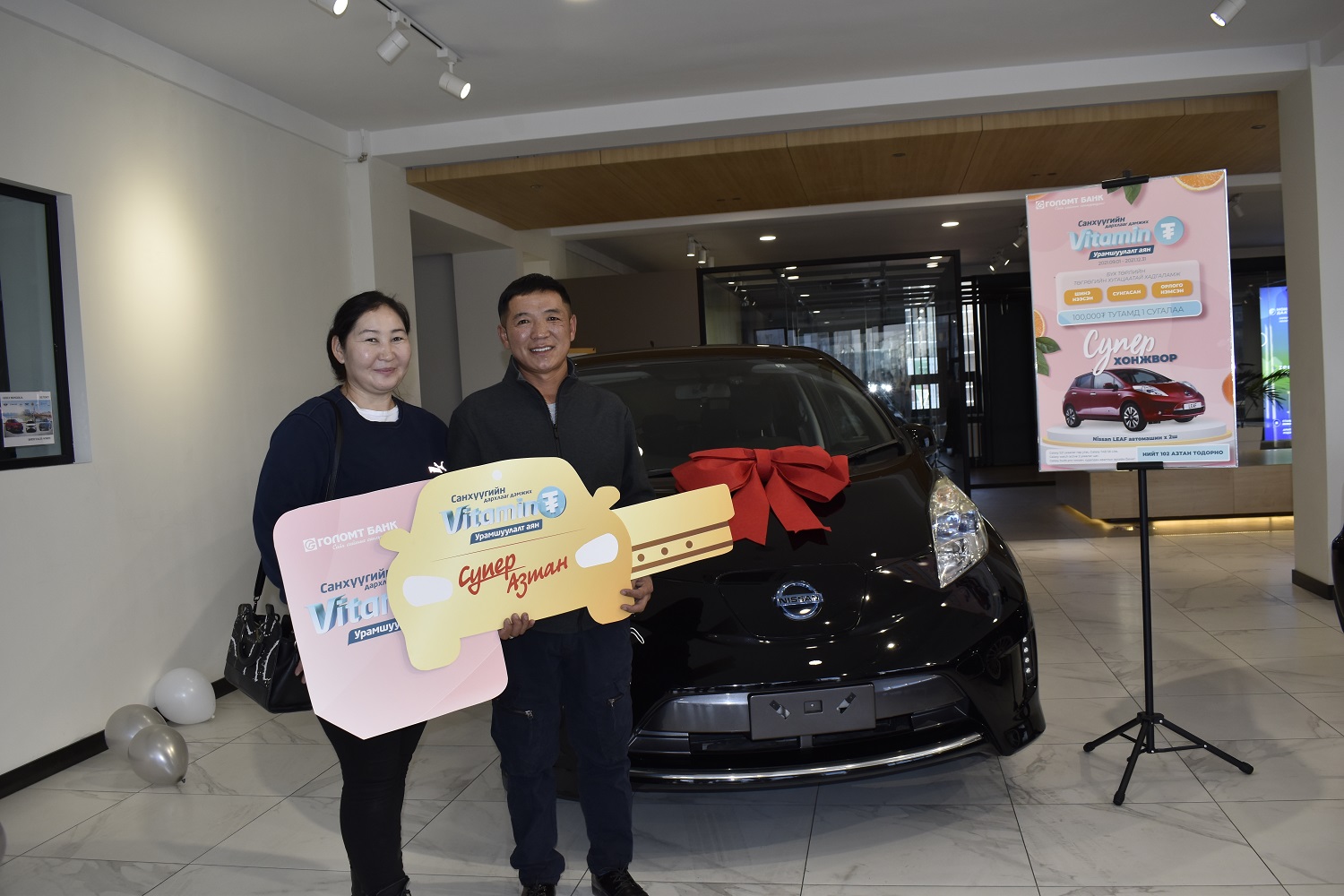 Do you have your own way of saving?
In our family, we spend one person's salary on our monthly needs and save the other one's salary. I think that saving is for the sake of my children and had a great impact on my learning to save.
Would you like to share your thoughts on Golomt Bank's "Vitamin ₮" campaign?
I think everyone should have a saving account. I would like to express my sincere gratitude to the Golomt bank's "Vitamin ₮" campaign and the team for organizing this great campaign encouraging customers to save and make saving a habit.
Congratulations again on becoming the lucky customer who won the grand prize. I hope that you will continue to save and support your financial immunity.
Thank you very much. The "Vitamin ₮" campaign is a fair and honest way to test your luck and potentially become one of the lucky winners. I wish the best of luck for everyone who were involved in this campaign. Anyone can become the winner of the next car and I wish you a good luck.
If you would like to join the "Vitamin ₮" campaign and support your financial immunity, please click HERE for more information on Golomt Bank's term deposits.
#SupportYourFinancialImmunity #Vitamin₮