A road between Sainshand, the administrative centre of the Dornogobi Province and Khamriin Khiid was closed yesterday (26 July). According to officials, the road was damaged by flooding caused by the continuing heavy rain. Currently, reconstruction work is continuing on the road, however, it's not clear when road will be re-open.
Lots of roads in the country are flooded at present – what is so special about this one?
According to Mongolian Buddhism, a spot in the middle of the Gobi Desert has been identified asthe point where the strongest spiritual energy in the world converges. To mark the location, amonastery complex was built in the 19th century; it was named Khamriin Khiid and is an important pilgrimage destination for many Mongolians.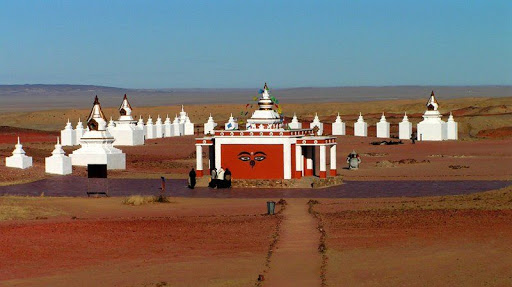 The original Khamriin Khiid monastery was founded in 1820 by Danzanravjaa, also known as the Terrible Noble Saint of the Gobi, who first observed the location's tremendous energy. At its peak, the monastery housed up to 500 monks, and included more than 80 temples within the complex.