On 17 June, Ulaanbaatar City Primary Court decided to ban young Mongolian wrestler E.Oyunbold from competing in wrestling for two years and revoke his title of Titan. The wrestler, who is from the north-eastern Khentii province, was found guilty of doping. However, E.Oyunbold appealed. Yesterday (21 July), the Ulaanbaatar Court of Appeal held a trial over E.Oyunbold's doping case and cut his ban to one year. Therefore, his victory in the traditional Mongolian wrestling at last year's Naadam festival remains cancelled and his title of Titan was revoked.
As a result, all his opponents have been upgraded. If Mongolian President Kh.Battulga issues the official upgrade titles of E.Oyunbold's opponents, N.Batsuuri from Uvs province will be announced as a winner of 2019 Naadam wrestling.
The doping scandal broke in August 2019, when E.Oyunbold's urine sample tested positive for four prohibited substances, namely meldonium, stanozolol, chloroazide and hydrochlorothiazide. The  announcement was made by the Naadam Organising Committee;  the test samples were confirmed again by South Korean laboratories earlier this year. After the wrestling tournament at the Naadam festival in July, the National Anti-Doping Centre of Mongolia gave doping tests to the top 16 wrestlers in the tournament, of whom two were found to have violated Mongolia's anti-doping regulations.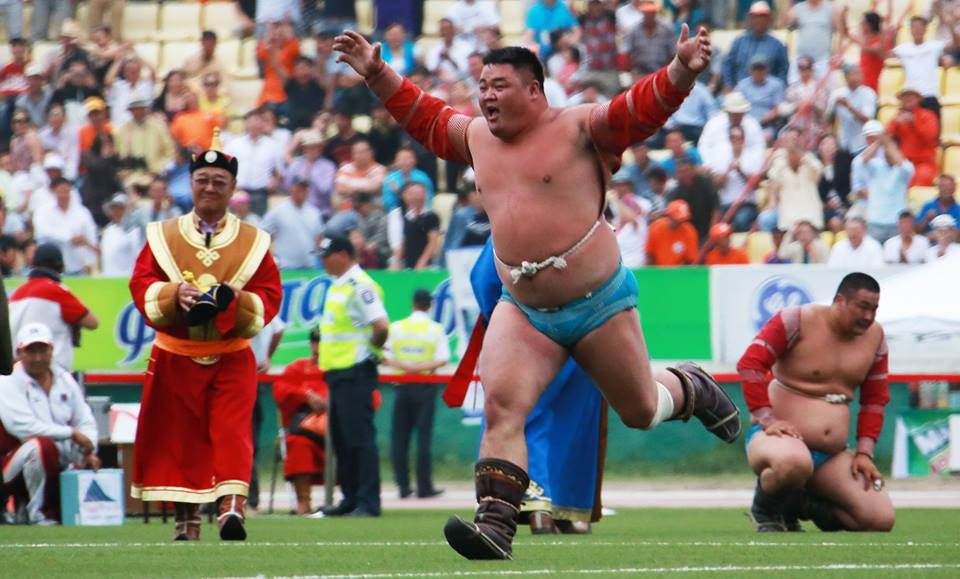 E.Oyunbold ascended to the highest rank of Titan in the country's traditional wrestling tournament in 2019. E.Oyunbold became Titan after he defeated Titan N.Batsuuri in the final round of the wrestling tournament of Naadam, an annual national sports festival. The 27-year-old wrestler became the 24th Titan in the history of Mongolian traditional wrestling.
Naadam, which means "games" in the Mongolian language, is the most important event for Mongolian traditional wrestlers who can only attain rank during this festival.
A total of 512 wrestlers across Mongolia, including 85 wrestlers with national titles competed in last Naadam. The Naadam Festival, which is on UNESCO's list of intangible cultural heritage, is an official holiday celebrated every year from July 11 to 15 across the nomadic country and features "The Three Manly Games", namely wrestling, horse racing and archery.