People in Need INGO with support from the Embassy of the Federal Republic of Germany (German Embassy) in Mongolia is providing – for the third time – an additional round of support to 1600 vulnerable children with nutrition, education and health kits in five districts of Ulaanbaatar, as well as Nalaikh. The project will also be expanding its humanitarian assistance to rural areas of Mongolia, specifically Arkhangai and Bulgan aimags
The Government of Mongolia closed all schools and kindergartens until September in an effort to contain the outbreak of the 2019 Novel Coronavirus (COVID -19). While this action has helped to reduce the spread of infectious disease, it has had negative repercussions on vulnerable households. The closure of schools and kindergartens is putting vulnerable children at increasingly higher risk as they rely heavily on their school meals for their main source of daily nutrition.
"Through the closure of educational institutions in Mongolia, the Ministry of Education reduced the danger of the COVID-19 outbreak in Mongolia. As a side effect, this had a negative impact on education and nutrition of children in particular those from vulnerable groups. Thousands of vulnerable children across Mongolia depend on school meals for their daily nutritional needs. With this financial support the German Embassy in Mongolia wants to contribute to the Government's efforts in protecting the vulnerable children, along with other development partners," said Jörn Rosenberg, the German Ambassador to Mongolia.
-People in Need initiated the "Clean Hands" initiative in January with Breathe Mongolia-Clean Air Foundation and the Namuun Children's Foundation – supporting  250 children with nutrition and sanitation kits (link to the previous Press Release) with the funding from PIN's Club of Friends and in-kind contributions from the Namuun Children's Foundation.
PIN also launched a global fundraising campaign with Breathe Mongolia – asking for cash donations to reach an additional 300 children and their families.
"I am extremely grateful to the German Embassy in Ulaanbaatar as well as to other donors for their generous contributions to our ongoing work to support children and their families with nutrition, education, and hygiene kits. I similarly appreciate our partners at the EU funded Switch Off Air Pollution Project for the purchase of 7,000 masks to be added to the kits. Finally, our friends at Breathe Mongolia, Friends of Mongolia and the Namuun Children's Foundation for their support to mobilize additional funds and donations. With the support of all of these partners, we are able to continue supporting thousands of additional children and their families," expressed Tim Jenkins, People In Need's Country Director.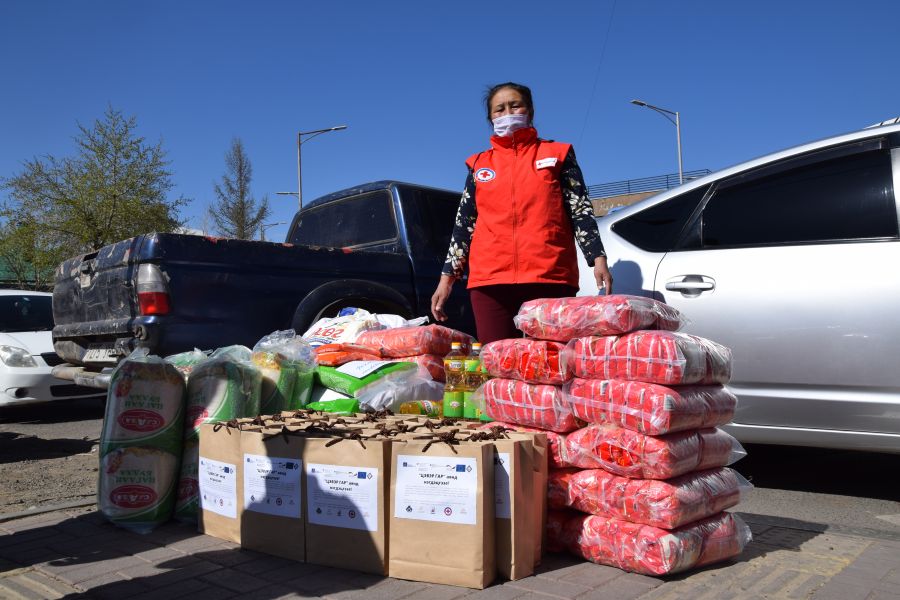 Each family is provided with an information leaflet on preventive measures against coronavirus outbreak, a nutrition kit, and a hygiene kit. Volunteers from Mongolian Red Cross Society and the staff from the kindergartens have now distributed more than 1,000 kits to the children and their families:
Nutrition kit includes: Fortified flour (10kg), rice (5kg), sugar (1kg), children's breakfast cereal (5kg), sunflower oil (1L)
Hygiene kit includes: Toothpaste (200g), toothbrushes (4), hand-soap (2), laundry soap (3), and laundry powder.
Education kit includes: Educational comic book, coloring book, crayons, and drawing notebook
Project Partners: The Ministry of Education Culture Science and Sport, The Embassy of the Federal Republic of Germany in Mongolia, the Swiss Agency for Development and Cooperation, Friends of Mongolia, People In Need, Breathe Mongolia, the Namuun Children's Foundation, Mongolian Red Cross Society, and the Switch off Air Pollution Project Team funded by the European Union.
People in Need (PIN): INGO based in the Czech Republic, launched programming in Mongolia in 2009,  when it provided emergency assistance to herders affected by severe winter conditions (dzud). With the goals of saving lives and protecting dignity, empowering people and supporting sustainable living, PIN established its permanent presence in Mongolia in 2011. PIN's programs in Mongolia focus on urban sustainable development, supporting rural livelihoods through building the capacity of cooperatives, facilitating disaster risk reduction and resilience programs for herders, building the capacity of civil society organizations (CSOs) and local governments.
Contacts:
Tina Puntsag, Communications and Advocacy Officer, People in Need (PIN) in Mongolia
Tel: 976-70111501, email: tina.puntsag@peopleinneed.cz