Earlier today, an event entitled "Owner-less Tool Demonstration" is taking place in front of the Central Sports Palace from 08:00 to 17:00 features empty chairs, sewing machines, computers, construction hats, work jackets, hammers and nails.
The demonstration has been organized by the Mongolian National Chamber of Commerce and Industry on the occasion of International Workers' Day (1 May) involving all sectors of the economy. The event aims to force the Mongolian Government to take efficient measures to preserve jobs and to support businesses against economic pressures caused by coronavirus.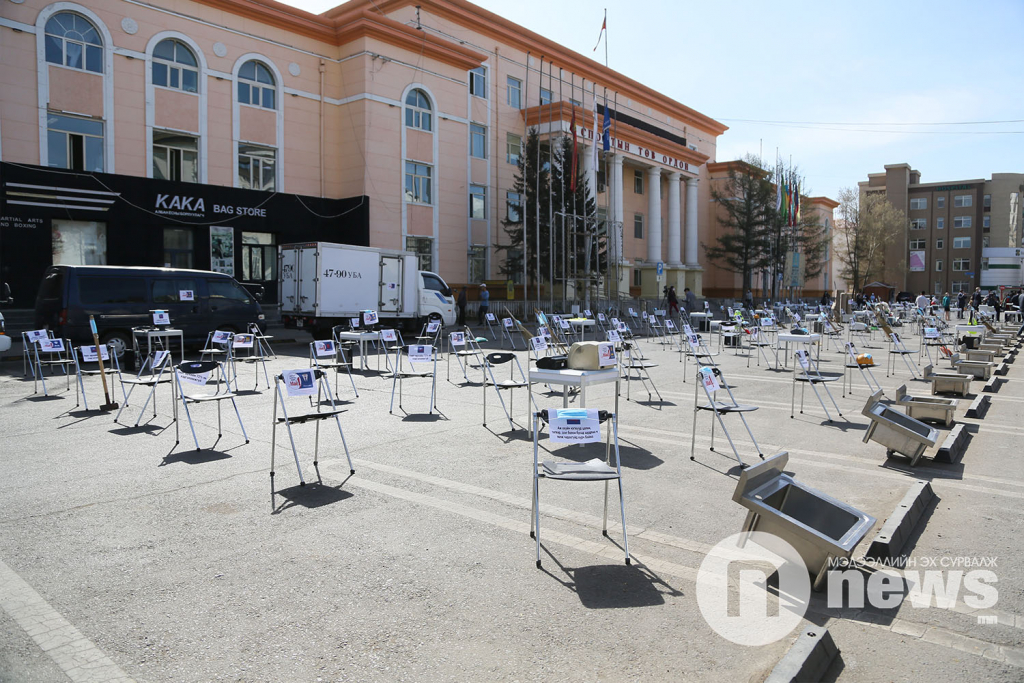 It has been 100 days since the Mongolian Government announced advanced emergency readiness nationwide and closed over 5000 enterprises in Ulaanbaatar in order to prevent the spread of coronavirus.
The Chamber has conducted three surveys among enterprises and the public since 27 January, when government measures against Covid-19 were announced. The MNCCI warned the government of the need to take emergency measures for supporting the economy after its first survey was conducted among 1100 enterprises in early February. The next survey covered an additional 1000 enterprises and 10,000 individuals. According to the results of the survey, 94 percent of 10,000 people admitted that the government's coronavirus restrictions had affected their daily lives and family finances; 90 percent of enterprises responded that they had suffered from disruption. According to Social Tax Department statistics, some 46000 enterprises have stopped paying taxes.