Mongolia has accepted a pair of MiG-29UB two-seat fighters donated by Russia under orders from President Putin. The acceptance ceremony took place on November 26—the nation's Independence Day—at a military base located on the territory the Chinggis Khaan International Airport that serves the capital city, Ulaanbaatar.
Speaking at the event, the commander of the Mongolian Air Force, Brigadier-General Enkhbayar, described it as the "opening of a new page for Mongolian aviation." He added that the two aircraft, received free of charge, will improve the service's combat efficiency, and enable it to fulfill the primary task of patrolling Mongolian airspace and keeping control of the nation's borders. Addressing the personnel of 303 and 337 Squadrons, he called upon them to regard the two MiGs as "symbols of our cooperation with Russia."
Also speaking at the ceremony, Major General Zabit Khairbekov, deputy commander of the Russian Air and Space Force, noted that Mongolian aviation began operations in 1925 using three Russian-made Junkers F13 transports, which were supplemented six years later by combat aircraft from Soviet stock. In 1970, the Mongolian air force entered the jet age with the formation of a MiG-17 squadron. In the period from 1977-1984, it mastered MiG-21PF supersonic interceptors. The latter remained operational until recently when their structural lifecycles expired.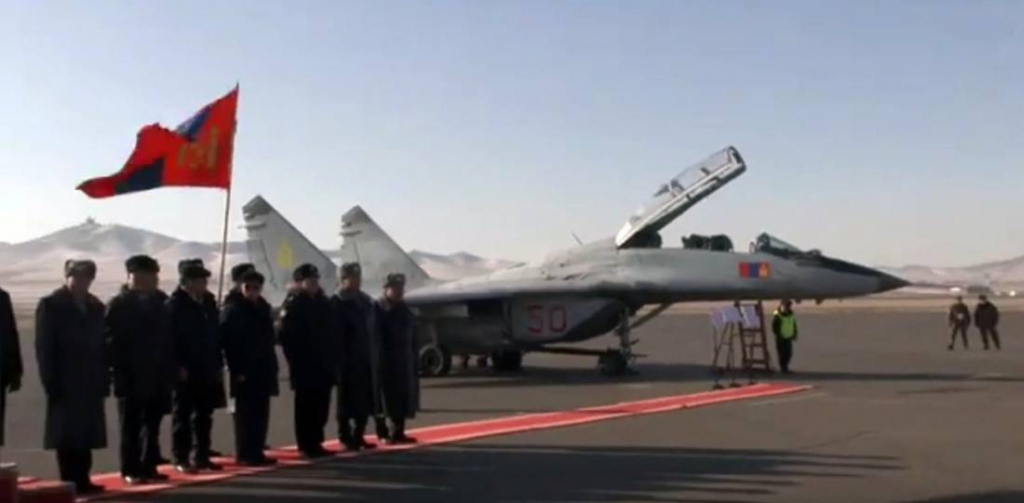 Numerous media reports from earlier this century suggested that Mongolia would take a handful of MiG-29 and/or Su-27 fighters, but this did not materialize. Left without Russian aid, the Mongolian air force inventory gradually reduced to a few Antonov An-24/26 tactical airlifters and a dozen airworthy Mi-24 and Mi-8 helicopters.
President Putin made the decision to resume military aid during his official visit to Ulaanbaatar in September this year. The two sides signed a protocol on the resumption of an earlier agreement covering military-technical cooperation centered on free-of-charge shipments of military equipment from Russian army stocks. In addition to the MiGs, Moscow has donated a handful of the Pechora-2M medium-range SAM systems.
Russian-Mongolian relations are based on a long history of bilateral cooperation, are distinguished by traditional good neighbourliness, are comprehensive and oriented towards further development of strategic partnership. In the military sphere, the Russian side constantly took an active part in the construction of the national Armed Forces of Mongolia, including in equipping the Mongolian Air Force with aviation equipment and personnel training.