A rare snap shows four snow leopard cubs sunning themselves on rocks in the Mongolian mountains – but can you find them all?
The purrfect discovery was made by a WWF team who spotted the little leopards while the mother was away hunting. The cubs, well camouflaged on the rocky outcrop, had been spotted by shepherds who co-operate with the World Wide Fund for Nature in Mongolia in an effort to study and protect the endangered big cat.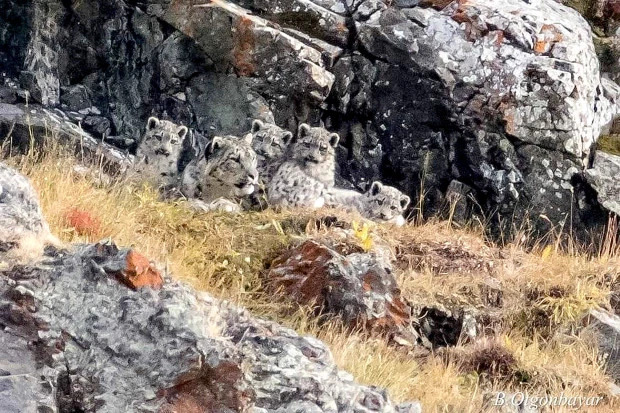 Wildlife photographer, explorer and tour guide B.Otgonbayar later caught the four resting after a meal with their "hero mother". It is unusual for snow leopards to have so many cubs in a single litter, say WWF experts in Mongolia. While snow leopards can produce up to five babies in a litter, the average size is 2.2.
This is only the second confirmed case in recent years of a snow leopard having four in a litter in the country – the previous case was in 2016. The species which occupies mountain ranges from Afghanistan to Mongolia and western China is seen as "vulnerable" due to poaching. There are believed to be only 10,000 mature animals in the wild, and the numbers are declining. (The SUN)