A couple of mountaineers from the town of Steinbach in Manitoba, Canada battled a two day blizzard and the continuous threat of avalanches in an epic climb in Mongolia.
David Banman and Adam MacDonald have embarked on numerous mountain climbing adventures over the years and this time decided to hit a very remote spot in eastern Asia, near Siberia. The mountain range is called the Altai Mountains and technically speaking, Banman says it is not that tough a climb. He notes the isolation is attractive to climbers, even though the highest peak stretches only about 14,500 feet into the air. But, Banman says on this climb, weather is a huge factor.
There were six people in the group. The two Steinbach climbers, another friend who has joined them on other climbs, and three others from different parts of the globe. They had a crew of seven people, which included guides, porters and a cook. Banman explains Bactrian camels and horses were used to transport their equipment into base camp.
Banman says it took them about two days to reach base camp. It was a walk of about 25 kilometres after spending eight hours bouncing around in a Russian van over gravel and rocks. After making it to base camp, the group did a couple of climbs to acclimatize. On one of the climbs, the route down was extremely slippery and Banman says they decided to improvise by sitting down in the snow, pushing off and sliding down the mountain and into Russia. Banman says they travelled about 2,500 feet in about ten minutes, a distance that would otherwise have taken them more than two hours to hike.
While climbing along the Mongolia/ Russia border, Banman says he teed off a ball from a cliff in Mongolia, which landed in Russia.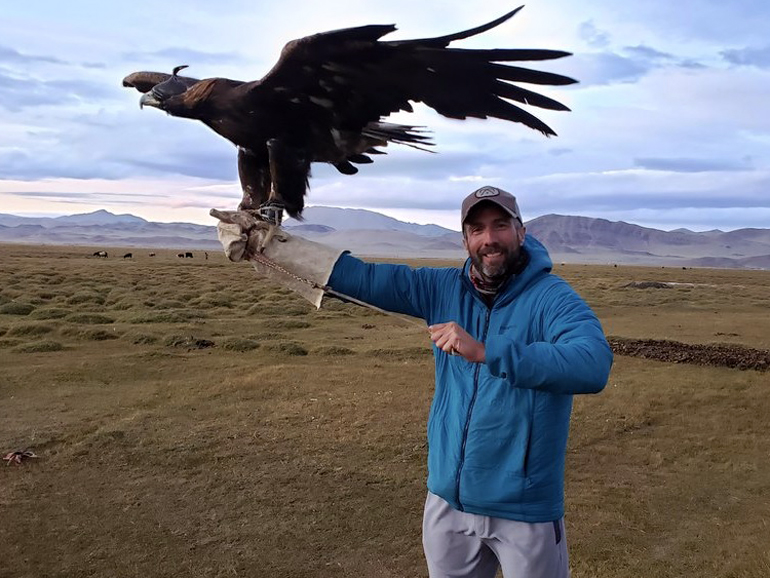 In their attempt to climb Friendship Peak, Banman says they were rocked by a blizzard that kept them trapped in their tent for 42 hours. He notes thankfully their phone had enough juice to watch a couple of movies. Other than that, there was little they could do but listen to the howling wind as two feet of fresh snow fell. With a wind chill in the -20's, Banman says it was colder than they had banked on, though thankfully their tents and sleeping bags kept them warm enough.
By now, any dreams of reaching the summit were dashed. Banman says following the storm they had a two hour window of favourable weather to pack their bags and make their way down, before the conditions deteriorated. Three and a half hours later they were back at base camp and looked up to see an avalanche off the face of Friendship Peak, right where they were supposed to climb.
Banman says they were only about 500 vertical feet from the summit, when they opted to turn around for safety reasons. He notes it would have taken them about 60 minutes to climb that in good conditions. Yet, Banman is not disappointed in the outcome.
Banman adds they only found out after, that their guide, known as a world class climber, has not had a successful summit with any of her groups in that area the last four Septembers.
As mentioned, avalanches were a constant threat. Banman says sometimes you could hear them, but were unsure of how close they were. He notes thankfully the avalanches stayed on the other side of the mountain. Yet, they sounded like a train barrelling at 60 miles per hour, making it impossible to hear yourself speak. He says it made for a little more interesting sleep at night.
Banman says one of the most unique parts of his trip happened after the climb. Banman says they took in an eagle hunting festival, where the skills of eagles and trainers were on full display. Games included dead goat tug of war on horseback, men and women racing horses while the women used a horse whip to try and whip the men and eagle calling. Traditional foods for sale included sheep dumplings and goat on a stick.
Speaking of food, Banman says because Mongolia has virtually no trees and can not produce crops, they ate a lot of meat on their trip. This included sheep, goat and horse meat. He notes one day their chef decided to make them a Russian specialty called perisky.
With another climb now under his belt, Banman admits he is not sure what is next. Banman says as he gets older it gets harder to sit in a tent for 40 hours with aching bones.