Earlier today, the Mongolian Foreign Ministry has held an academic conference marking the 150th anniversary of the birth of Ching Wang M.Khanddorj, founder of the nation's diplomatic service. Ching Wang M.Khanddorj (1869-1915) was one of the initiators and leaders of the National Revolution of 1911. He served as the first minister of foreign affairs of Autonomous Mongolia in the government of the Bogd Khan from 1911 to 1913. At the conference, academics discussed his contribution to the National Revolution of 1911 which led to the Independence of Mongolia from China's Qing Empire.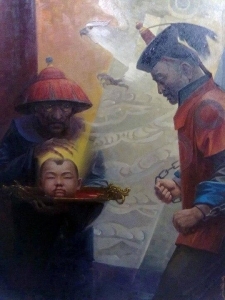 In 1904, Khanddorj invited the 13th Dalai Lama to stay at his residence -the Wang Monastery (present-day Bulgan city) – as the Tibetan spiritual leader crossed Mongolia to seek Russian support. The Dalai Lama was later accompanied on his journey to Beijing by Khanddorj's son Danzanjamts, who was subsequently executed by the Qing authorities for allegedly violating protocol. After this tragedy, M.Khanddorj was invited to Beijing on political matters. But, a shock was in store: at the official dinner, the Qing hosts served M.Khanddorj his son's head as a special dish instead of a sheep head. After passing Great China Wall, M.Khanddorj swore, that 'I will fight against Qing Empire with all my strength until all traces of the Chinese disappears from the Mongolian land which begins at the Janchkhuu Heights.'
M.Khanddorj died, allegedly of poisoning, in 1915.