"Chandmani", Operations and Service Centre for the Underground, which is the operational core of the Oyu Tolgoi mine, opened today.
"Chandmani" Centre has a high-tech control room enabling to monitor safe operations of underground teams and moving vehicles. The centre is 13,570 square metre two-floor building with shower rooms, dressing rooms, personal protective equipment warehouse, a dining room and conference rooms for underground mine employees.
The main part of the building is a mine control room equipped with "Evans" management system, which fully monitors underground airflow, heating system, power consumption and ensures their safe and non-stop operations.
"Chandmani" Centre is also equipped with the integrated underground mine access control system which is the most advanced technology in the world mining industry. The electronic tag board system panel uses a digital tracking system to obtain the real-time data of underground personnel rapidly, check valid underground trainings, monitor the log of personnel who accesses the underground, prevent potential risks of blasting hazards, and the system keeps track of the Refuge Chamber personnel in emergencies.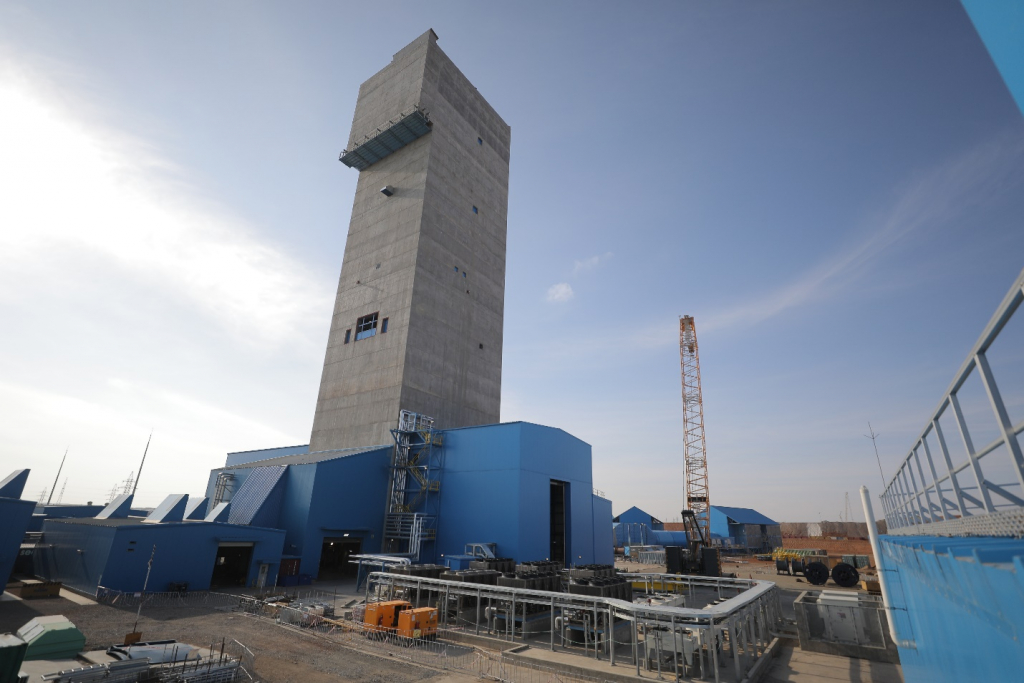 Moreover, "Chandmani" Centre is a Mongolia's first mining facility that has a special elevator and wheelchair accessibility which allows people with disabilities to work in mining projects. Over 800 Mongolian employees from "Monnis International", "Moncon Construction", "All Engineering", "IT Zone", "Mec", "Render Trade", "Vertexmon", "Tavan Ord", "TC Engineering", "Metro Express", "DTU" and "Best Fashion Elevator" companies participated in building of the state-of-the-art mining facility.
Representatives from the Ministry of Mining and Heavy Industry, "Erdenes Mongol" LLC, "Erdenes Oyu Tolgoi" LLC, local government representatives have participated in the opening ceremony of "Chandmani" Centre along with our employees.
Facts about "Chandmani" Underground Operations and Service Centre
"Chandmani" Centre is a 99×96 metres two-floor building with total floor area of 13,570 square metres.
1,236 tons of structural steel, 9,469 m3 concrete, 26,412 m pipe, 19,017 m2 ductwork, 133,796 m2 cable, 33,796 tons of electrical wire used for the building.
Ground floor of the new "Chandmani" centre is designed for up to 1,300 personnel including 3 male, 1 female shower rooms, ablution facilities, locker rooms with total of 2,150 lockers, a laundry handling and PPE management facility, two pre-start meeting rooms (500 personnel at a time) and mine access control section.
The second floor of the facility contains work stations, offices and meeting rooms for 377 personnel and a lunchroom with capacity of 90 personnel.
The most important part of the building is "Heating, Ventilation, Air Conditioning System Control Room" equipped with three heat exchange units and 20 "CARRIER" Turkish brand air control units, which feature the "Building management system" from "SIEMENS", one of the largest technology companies of Germany. Around 19,017 m of air pipes and ventilation ducts were used for heating, cooling and ventilating the building and it was all provided by the local supplier from Khanbogd soum, "DUCT ENGINEERING" LLC.
"Chandmani" centre is capable of treating the high-in-mineral water of the Gobi desert area into drinking water by a five-step filtering system and has the capacity of filtering 16 cubic metres of water per hour.
S. Zayasaikhan, a contemporary artist and one of the Mongolian master painters, has graced the building's walls with two of his masterpieces. These murals are 16 metres long, which is one of the biggest in Mongolia.
• 833 people have worked to complete the building of "Chandmani" centre.