U.S. Defence Secretary Mark Esper met Mongolian leaders on Thursday in a rare visit to the strategically important nation as the Pentagon seeks to implement its strategy of focusing on countering China and Russia.
The ceremonial highlight of the visit was when Esper was given a seven-year old caramel coloured horse as a present. Esper named the horse Marshall after former U.S. Defence Secretary General George Marshall.
"He's happy, he likes his name," Esper, standing next to the horse, said.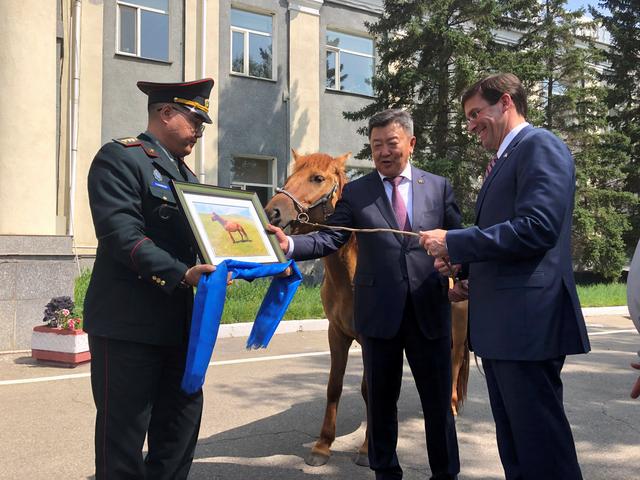 The horse will stay behind to be cared for in Mongolia, though Esper was given a framed photo of the it. Esper, in return, gave the caretaker a blanket for the horse which is used by the U.S. Army Old Guard.
Esper's visit to Mongolia, on his first international trip since being confirmed as defence secretary, highlights the importance the country is seen as playing in the region.
This is the first visit to the country by a defence secretary since 2014, when Chuck Hagel spent about four hours there. Esper spent a night in the capital, Ulaanbaatar.
Late last month, Mongolian President Kh.Battulga visited Washington to meet with President Donald Trump. (Reuters)