"These are the dogs that could stop Mongolian grasslands turning to desert," say the directors of Mongolian Bankhar Dog Project. The bankhar, a guard-dog, is being reintroduced to protect livestock from predators and remove herders' incentive to keep more animals as insurance and kill predators, such as the rare Snow Leopard.
The non-profit organisation is reintroducing the ancient guard-dog to Mongolia's steppe to prevent conflict between humans and wildlife and promote sustainable land use. Livestock numbers on Mongolia's grasslands have nearly tripled since 2002, according to the National Statistics Office – and this is taking its toll on the pastures. The number of head of livestock in 2018 was over 66 million, about 41 per cent of which were goats, raised mainly to meet China's demand for cashmere wool.
Historically the only dogs in Mongolia, bankhar have long been prized by nomadic families as effective protectors against predators, such as wolves. Their presence alone can reduce the number of animals lost to predators, and thereby lower the chances of herders killing these endangered predator species in retribution for their losses. However, bankhar numbers fell as a result of several factors, including culls when herders were relocated under socialist rule in Mongolia, which lasted from the 1920s until the 1990s, and the introduction of modern breeds via Russia.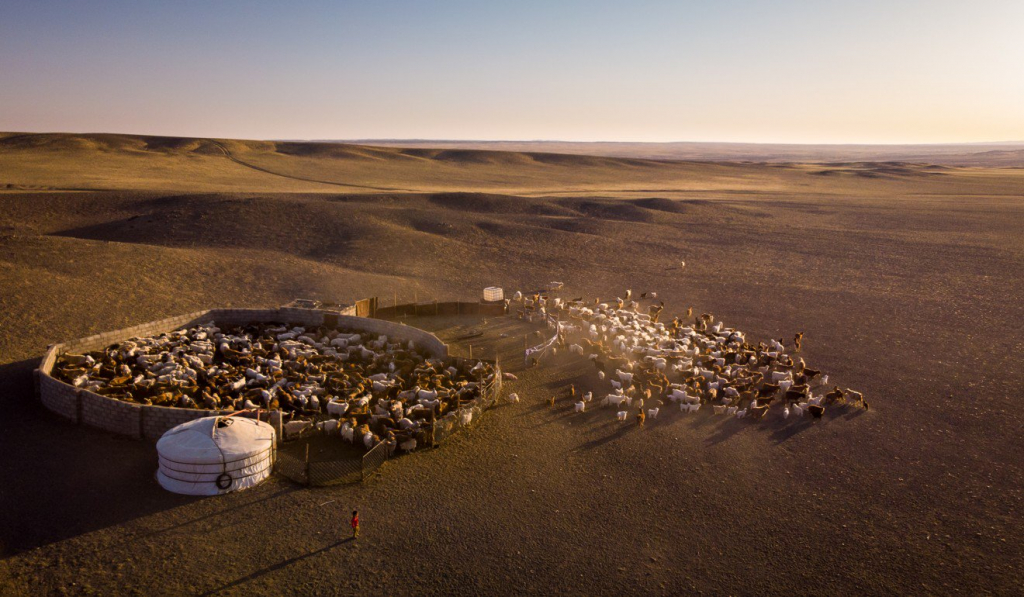 The bankhar is possibly the oldest domesticated dog in the world. It is uniquely adapted to Mongolia's harsh climate, with some of the densest fur of any dog alive. The bankhar has evolved based on its environment, not through selective breeding according to the whims of humans, as most dog breeds evolved. As a result bankhar live longer. While giant breeds such as Great Pyrenees or Swiss mountain dogs live for up to 10 years, an 18-year-old bankhar has been recorded.
Some 20 dogs are kept in spacious outdoor pens at the dog project's facilities near Hustai National Park, west of the country's capital, Ulaanbaatar. Tumurbaatar, a former herder with a background in ecology and conservation biology, runs the operation with the help of caretaker Miiga. The adult canines are heavy – weighing up to 58kg – with a regal air for the most part, and are friendly and playful. "Bankhar are good guardian dogs because they are very calm – unless they sense real danger," says Tumurbaatar.
So far, the dog project's data shows an average 93.7 per cent reduction in livestock losses to predators, based on a sample size of 30 dogs. One herder, Batchuulun Erdenechuluun, 38, used to have problems with wolves. Now, with two dogs protecting his herd, he has no losses to report.
The project places dogs at several sites in Mongolia. In the South Gobi region, it is collaborating with global NGO the Wildlife Conservation Society, which is leading a sustainable cashmere project in Nomgon with a local co-op. Only members of the co-op are eligible to receive a bankhar in this area.
The conservation society links herders to international buyers. Part of the agreement involves planned rotational movement from one pasture to another, to allow grasslands to rest and recover from grazing. To receive a rare bankhar is an important incentive to adhere to the sustainable herding practices. (source: South Morning China Post)