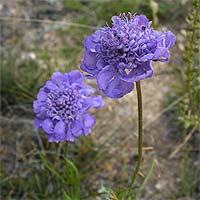 The Government announced an interesting decision during Saturday's regular cabinet meeting, announcing that Ber Tseseg (Scabiosa comosa) will be the national flora of pride.
Based on a poll conducted among botanists, researchers and students, nominating 9 native flowers, Ber Tseseg won with the most votes to represent Mongolia.
Mongolia named the Saker falcon the national bird of pride in 2012, and Mount Burkhan Khaldun as its most sacred mount in 2013, in accordance with a government resolution.
Ber Tsetseg is widely popular across Mongolia. In summer, Scabiosa comosa blooms for three months. It is found in colors ranging from pale blue to light purple. It can be easily planted and requires sunny and less dry conditions. While care is required, it is hearty and tolerant to sickness.
Mongolians craft silver plates for saddles with the flower, a symbol of tolerance.