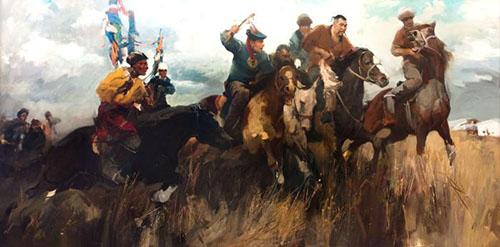 The "Sound of Horse Hooves" exhibition by talented young artist Badam Otgontuvden opens at the 976 Art Gallery on Thursday August 15th. Badam Otgontuvden is the first Mongolian artist to teach for the Ilya Repin St. Petersburg State Academic Institute of Painting, Sculpture and Architecture, the largest arts educational institution and one of the most important scientific centers in Russia.
About 60 prominent Mongolian artists including People`s Artist, State Prized L.Gavaa, State Prized Do.Bold and Honored cultural figure Ya.Oyunchimeg are graduates from the Academy.
Over 30 works, including Otgontuvden's biggest work, diploma thesis "көк пар" (kok par) will be displayed at the Sound of Horse Hooves exhibition. His diploma thesis "көк пар" (kok par) depicting the Kazakh people`s national game, a competition over a skin bag, was awarded the best diploma work at the Repin St. Petersburg State Academy.
This is the first time that Otgontuvden is to show his 2х4 work in his home country.
The young artist commented on his work that "the theme and composition of my three works for the diploma thesis are the same but the scenes are different. The first picture describes 13th century warriors` competition for a skin bag while the second depicts the good guys who fought the injustice during the years of the Mongolian People`s Revolution. The third is about the Kazakh people who first played the game of skin bag competition."