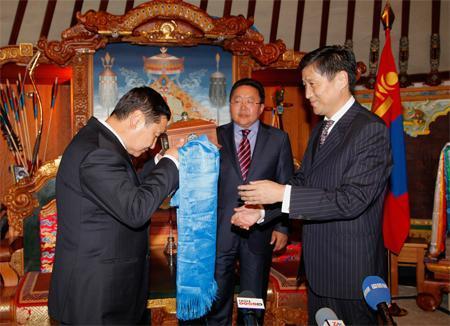 The new parliament yesterday held plenary session first time
with full attendance. MPP's members agreed to attend plenary session. The
session scheduled to discuss proposal of nomination of Prime Minister.
The coalition of Democratic Party, Mongolian People's
Revolutionary Party, Mongolian National Democratic Party and Civil Will-Green Party suggested Norov
Altankhuyag for the Prime Minister and submitted to the President on August 8.
The President of Mongolia Tsakhia Elbegdorj agreed to nominate Norov
Altankhuyag as new Premier . By the law the President should negotiate with
leaders of parliamentary political parties. On August 8, after submitted
proposal the President Elbegdorj held talks with Democratic Party leader N.
Altankhuyag and Mongolian People's Party Chairman U. Enkhtuvshin. During the
meeting political party leaders agreed to discuss the issues within the frame
of the State Great Khural.
The leaders of both parties said that they have already shared their opinion on
a particular topic and now looking forward to further cooperation.
At the meeting the President agreed that the new Prime Minister must be
approved by the State Great Khural as soon as possible.
After the three hours discussion members
voted for nomination of Prime Minister. Norov Altankhuyag appointed as Premier
by 74.2 percent of vote.